The customer journey is made up of many moments, and each customer goes in and out of each stage multiple times depending on the problem or issue they are trying to solve. As we know, this is not a linear process, nor is it simple. It is complicated, messy, and often overwhelming for both the buyer and the seller.
Last month I attended the CEB Sales and Marketing Summit in Las Vegas, where Brent Adamson unveiled new research and provided some frightful insight into its complexity:
57% of the buying process is complete before involving sales (this is an older stat but it still holds true).
6.8% of stakeholders are involved in the average deal (which is up from 5.4 just 18 months ago).
51% of decision makers are not willing to advocate. Diverse buying groups settle for lowest common denominator consensus, which is often "let's do nothing."
39% of customers report that the process was overwhelming after making a B2B purchase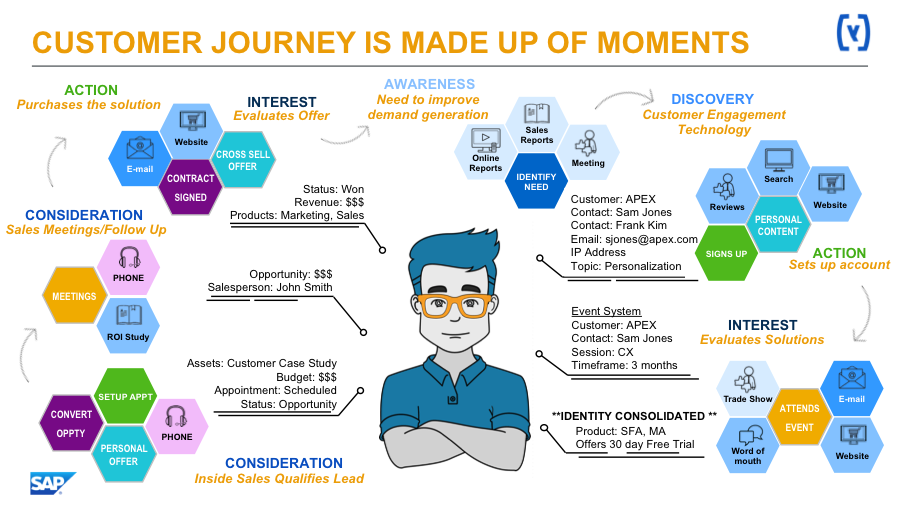 So, where to start? Adamson provided a great framework for breaking down the customer journey:
As always, you need to adopt customer-centric thinking. Your challenge is to look at your customers and break down the "why" and "how" they arrive at each stage of their purchase.
Know everything about your stakeholders and how they work together so you can prescribe, or recommend, ways to fix problems without products and technology.
Here are three ways to simplify the B2B customer journey:
1. Challenge
We need to understand how buyers think about their business so we can push their thinking. This means that we first need to educate ourselves on our buyer's businesses, the complexities of their selling environment, and the pain points they're trying to solve. It requires you to be seller-agnostic.
Sealed Air, is a packaging company known for its brands: Cryovac food packaging, Bubble Wrap cushioning, and Diversey cleaning and hygiene solutions. Bubble Wrap is a household name. It might actually be cushioning for packages, but kids and adults alike know it for the fun of popping those bubbles!
Last year, Sealed Air introduced a flat version of its packing materials to cut down on the cost of shipping. The new version had no "pop," however, and customers took to social media to express their outrage: "No life without the pop!" "You have ruined Christmas!" For Sealed Air, understanding alternative uses that might not been a part of the intended design was key. Popping bubbles is a vital part of how customers use the product, and customers cared enough to express their opinions on social media.
For Sealed Air, social channels became an important way to connect and engage with customers – Bubble Wrap even took to Twitter with its own handle. (The Twitter conversations are entertaining, and you will learn many uses for Bubble Wrap you may never have imagined.) Bubble Wrap is not going away – in fact, the product family just expanded to include an ecologically friendly solution to reduce the carbon footprint. Phew! Customers can still pop away!
2. Align
You need to understand the various stakeholders impacting your deals: who they are, how they connect, and what motivates them to have the conversation in the first place. It's not about better connecting stakeholders to us – it's about better connecting stakeholders to each other. It's our job to uncover ways to help our buyers navigate the purchasing process internally. Remember, buying groups settle for the lowest common denominator consensus.
This is where it helps to really know the organizational structure of the company and what is at stake for them. Interview stakeholders to understand what motivates and drives them to make a decision. Finding influencers in the context of past deals within your organization and capitalizing on those relationships is the first step to building connections among stakeholders. Just as important is bringing in all departments that will be affected—for example, the purchase of a customer engagement solution should involve the CMO, CSO, CIO, and even procurement. Procurement can delay or even stop a deal, even if you thought it was a sure thing!
3. Prescribe
We need to understand anticipated and unanticipated hurdles along the buying journey that prevent customers from moving to the next stage and find ways to overcome those hurdles.
Adamson said, "We need to recalibrate our customer understanding to understand not just seller dynamics, but buyer dynamics." Help uncover areas of improvement your customer might not see, but do it through a buyer lens.
The secret to success starts and ends with the customer. Whether you are in sales or marketing, the goal is the same: simplification and delighting customers so we can make the buying journey as rewarding and painless as possible.
Help keep the conversation going: Share your best practices and explain how you remove the complexity of the journey. To test how strong your brand's customer engagement is, take this and receive a personalized report.