Have you advanced your social selling strategy to prospect and cold call without picking up the phone? Well, not too many successful social selling sales executive are that successful. However, more and more of these social seller are headed in that direction!
With fewer decisions makers answering the phone and emails in response to cold calls, what is an enterprise software, automobile or consultant sales person to do? Use social selling strategy that leverages Twitter, of course!
Key Social Selling Research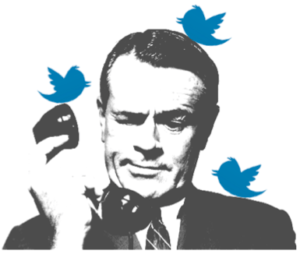 8. Direct Message Them. After a while, send a DM with more 'private' talk, or, sit back and wait for a DM from them and let them close you for an appointment.
Do you have a successful approach to using Twitter to help you cold call? If so, please leave a comment below! Or contact me directly on at MarketingThink.com or on Twitter @GerryMoran.
If you are looking to hone your Twitter skills you will want to:
Learn how to create a compelling Twitter profile
Understand how to create the perfect Tweet
Use retweeting to you advantage!
So, put down that telephone and stop emailing your customers and prospects when making that first touch! Use these social selling ideas to help you establish a relationship before you make that first call!
Comments