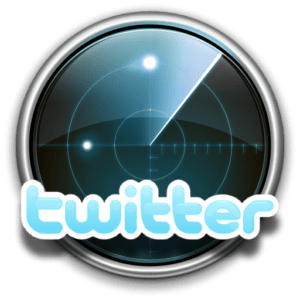 Twitter for Sales Prospecting
How do you use Twitter to land on someone's radar and make your first contact more memorable? Whether you are a software sales executive or interviewing for a job, breaking the ice before you meet will give you a competitive advantage. Remember, your first face-to-face call is not about just "making the sale" and showing what you know. You need to set an impressive first impression to manage the overall package that you bring.
How To Use Twitter To Make A Good First Pre-Impression
Each of these actions will deliver a message or notification directly to your target contact! I recommend that you spend one to two weeks engaging with your client on Twitter before you have to interview, make that first sales call, or meet that enthralling speaker at your next conference.
1. Follow Your Contact. Simply, follow your contact on Twitter. This action will deliver three notifications to their account: via an email (if they have this function activated in their profile), on their Mentions tab and on their list of followers.

2. Publicly List Them. Listing someone on Twitter gives them the nod that they are relevant to your social media ecosystem. Place your contact into a relevant (and complementary) public list so they know how you view them. You can also place them in a private list; however, they will not be informed of your classification.

3. Retweet (RT) A Few Of Your Contact's Tweets. A retweet is a re-post of another's Tweet. Most start with a RT, however, this is not needed to be considered a retweet. Retweeting someone is a terrific way to show them Twitter love and is a marvellous boost to their ego. Each time you RT someone, it will show up in their Interactions tab. Retweeting enables you to say, "I really enjoy your tweets/content." Don't be an overly eager retweeter, since a contact can turn your retweets off, which could make for an awkward first contact for sure! Oh, and if you have trouble retweeting someone, perhaps their Tweets are private, so find another way to get on their radar! Beevolve reports that in 2012 11.84% of Twitter accounts were protected (or private).

4. Favorite Some Of Your Contact's Tweets. Favoriting your contact's tweets is a superb way to send someone the message that you think their tweet is worthy of recognition. Your Favorite will show up in their Interactions tab if they do not have a protected account. Don't worry if you cannot connect with someone with a protected account since they are likely they are not a regular user of Twitter. Beevolve reports the average protected Twitter account has 47 followers.

5. Reply To One Of Your Contact's Tweets. A Reply is A Tweet that begins with another user's username and is in reply to one of their Tweets. Replying to someone's Tweet with an insightful question of comment may strike up congenial conversation or at least get the recipient to 'hear you'. Your Reply will show up in your contact's Mentions and Interactions tabs (and in their timeline if they follow you). Also, those that follow you and your contact will see your reply. However, this is nothing to worry about since you will likely not use this tactic to do anything more than make a public comment. So, stay away from anything personal here!

6. Mention Your Contact In Your Tweet. A mention is a Tweet containing another user's Twitter name (i.e., user name preceded by the "@" symbol). Place @YourContact'sName in your tweet to position them as an expert in your field and someone worth checking out, since everyone will see your public mention. Mentioning your contact will show up in both the Interaction and Mention tabs, which only they can see if they do not already follow you. Remember, if your Twitter account is protected, those who are not following you won't see your mention. Make sure to pay attention to the good manners rules, since your contacts will not see your Mention if they block your account.

Are you looking to tweak your other Twitter skills? You may enjoy these posts that will help you:
Do you have other ideas on how to use Twitter to get on someone's radar? If you do, please note it below. Or contact me on MarketingThink. You can always Tweet me @GerryMoran.
I hope you walk away with one new idea to show you how to use Twitter to make a positive pre-impression. When you meet with a prospect, take part in an interview or walk up to a conference speaker, your pre-impression will make a difference.
PS. Did you find this blog post appealing? Please pass on How To Use Twitter To Make A Great Pre-Impression to your social tribe to help them be more successful!
Comments